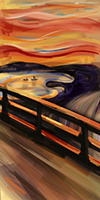 "
I was walking along the road with two friends – the sun was setting – suddenly the sky turned blood red – I paused, feeling exhausted, and leaned on the fence – there was blood and tongues of fire above the blue-black fjord and the city – my friends walked on, and I stood there trembling with anxiety – and I sensed an infinite scream passing through nature
"
--Edvard Munch
The expressionist period of art is typically characterised by the use of dynamic, distorted or fantasy shapes, and acidic colours. This style came about in a great series of "isms" in the early twentieth century, directly following, and often considered a reaction to, impressionism-- the style of art focused on capturing light and the feeling of the visible world. Expressionism marked a period where art was to come from within the artist, and was to be judged based on the artist's feelings, not the piece's skill or composition.
Edvard Munch was one of the most famous master artists of the expressionist movement, but his main style is considered post-impressionist. Having studied in Paris during his early career, Munch was heavily influenced by impressionist and post-impressionist artists such as Monet, Manet, and Van Gogh. However, Munch's subject matter definitely falls under the Expressionist movement, and can be further classified as the style known as "symbolism". His paintings focused on the emotions and ideas, the internal views of objects, instead of the observable natural world. Symbolism represents a synthesis of form and feeling, of reality and the artist's inner subjectivity.
In 1893, at 30 years old, Munch created his most famous masterpiece- Der Schrei der Natur, or more lovingly known, The Scream. The Scream was originally created with tempera (a paint made by mixing pigment and eggs) oil paint, and crayon on cardboard, but Munch re-created the famous work with pastels in 1895. He claims his original inspiration was a particularly neurotic day he had wrote about in his diary - the entry was later turned into a poem to accompany his recreation of the work (see above).
According to
EdvardMunch.org
, the second rendition (pastel-on-board) of The Scream auctioned for $120 million US dollars on May 2, 2012, and now holds the record for the most expensive work of art sold at auction.
After Munch died in 1944, all works remaining in his possession were donated to the Norwegian government. Some pieces were distributed to museums around the world, but many can still be seen today in the Munch Museum of Art, or in the National Museum of Art, Architecture and Design in Oslo Norway.
References:
https://en.wikipedia.org/wiki/The_Scream
http://www.artmovements.co.uk/expressionism.htm
http://www.edvardmunch.org/
Notes from my art history class
The Scream is the first in Windlyn's new Masterpieces collection. You can pick up your very own copy from The Lazarus!